Imagine being in the world's most populous country. How amazing can that be? With so much diversity, splendid cultural heritage, and not to forget thousands of years old, antique sites and relics. Welcome to the People's Republic of China, which is often in the news for all the wrong reasons.

You may not visit the whole country in a single visit but what you can do is visit the top destinations with a terrific data roaming plan. Whether you're in the Forbidden City in Beijing, hitchhiking through the streets of Shanghai, you would need enough data to navigate your way through pedestrian streets, trendy shops, and how can we forget Chinese bars. Data roaming can be an added benefit in a country like China if you don't know how to speak Mandarin. Apart from Shanghai and Beijing, you won't find many natives speaking English or any other language.

We at US Mobile want you to remain connected to the rest of the world while you're making your way along the Yangtze River or somewhere in the middle of West Lake in Hangzhou. We want you to have a stable network connection for hassle-free travel. Therefore we'll share the best network providers in the country.
Best Network Providers in China
China has 3 major local carriers, which you might want to check out before stepping foot in the largest of all Asian countries. China Mobile, one of the most popular local providers, and China Unicom and China Telecom. Although these networks have day plans and bundles for a few days, we recommend you stick with a more extended plan due to the high data limits. It's better safe to be sorry when you're stuck in a Chinese ancient village with an emergency, and you can't connect with your friends and family.
| Carrier | Small Plan | Medium Plan | Large Plan |
| --- | --- | --- | --- |
| China Mobile | 10 GB – 88 RMB | – | – |
| China Unicom | 2 GB – 161 RMB | 3 GB – 291 RMB | 6 GB – 517 RMB |
| China Telecom | 1 GB – 323 RMB | 3 GB – 646 RMB | 6 GB – 1164 |
While these sim cards may be convenient to get, do know that you may not be able to check your mail, or just chat on messenger on a local Chinese sim card due to the internet censorship regime in place.
How do I get these Local Plans
It's not that hard to get sim cards across the country, you can easily find them in local shops, airports, city centers, and even street vendors, but you need to be mindful of scams and fraudulent cards. Some of the carriers have official stores. For instance, China Mobile sim cards are only available at their official stores. Similarly, China Unicom goes an extra mile, where you can even get your sim card delivered to your hotel room.
Out of all the three, China Telecom is a bit strict in handing out sim cards, you will need a passport and will have to go to an identification procedure to get a China Telecom sim card, that too from an official store.
Benefits of using an eSIM/devices that support eSIMs
With an eSim, you get an instant data connection as soon as you exit the Capital International Airport in Beijing. An eSim takes just a minute to activate so you don't need to be concerned about the time spent setting it up at all. You can set up an eSim before you reach the baggage claim counter!

With China, connectivity can be a hassle, and rightly so. No network can guarantee coverage across rivers and mountains all across Mainland China but US Mobile eSims can. You never know with a local network provider. What if the local airport kiosk is closed or there are too many lines to go through. You don't want to end up in an airport queue on the first day of your vacation. eSims can be your perfect escape hatch to a stress-free vacation, and you're just one email away from getting one.
As easy as it gets + US Mobile Plans
At US Mobile, we make everything 5 times easier for you. With eSIM connectivity, you can now switch to an eSIM in just three easy steps!

1. Sign up with US Mobile
2. Add a line > Add an international line
3. Pay, install and get ready to use your eSIM!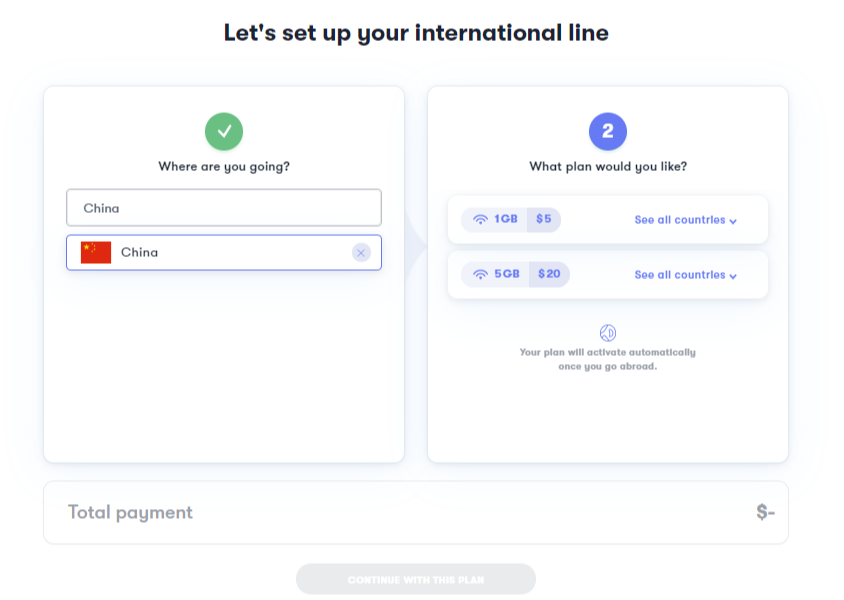 Make sure you check your phone's compatibility here to eliminate the slightest bit of hassle!
If you're traveling, look no further!
If you are looking for network options for your holiday in China, have no worries. Your search comes to an end right here with US Mobile. All you need is an eSim compatible phone, and then you will indeed have the adventure to remember. Besides who doesn't love the thought of visiting the astonishing Terracotta Warriors or parading through the glorious Silk Route.