The country housing the land of the five rivers and home to one of the earliest human civilizations, the Indus Valley Civilization needs no introduction. Pakistan is known for its rich fertile land all over Punjab and its vast deserts that stretch all over Sindh. The cold mountain ranges of the North and the deep underground salt and coal mines of the South. Rated as one of the top potential tourist destinations for the year 2020, Pakistan is the hub of natural reserves that peaks in an exceptional landscape.

Every province, Sindh, Punjab, Baluchistan and Khyber Pakhtunkhwa caters to diverse tribal ethnicities and other migrant folks. All cultivating and producing the culture of Pakistan. From street food to late-night truck dhabbas that serve cracking cups of chai 24/7, the hospitality is to be in awe of.

But even with such diverse geographical landscapes as well as people, you're never too careful with travel. Whether on a business trip or a family trip to meet your folks, be sure to be connected to your friends and family all over the globe.
Best Network Providers in Pakistan
But what if you're traveling on a budget? Or you're the sort of person who despises slow internet? There are too many boxes to check before you make a decision so make sure you do it wisely.
Pakistan has quite a few network providers. Good and bad, some bigger companies have now overtaken older, smaller companies and now cater to an even larger population. Some offer incredible bundles, others offer spectacular coverage and some provide the best customer service but it all boils down to what you're looking for.
Here's an offhand list of network providers in Pakistan.
Carrier
Small Plan
Medium Plan
Large Plan
Jazz (Previously Mobilink &Warid)
2 GB DATA – 89 PKR
12 GB DATA – 349 PKR
25 GB DATA (10 GB YouTube) 250 All Network Mins – 620 PKR
Telenor
30 GB + 30 GB Free (1AM to 7AM) – 1500 PKR
150 GB – 3800 PKR
275 GB – 6000 PKR
Ufone
1 GB – 390 PKR
3 GB – 780 PKR
10 GB – 1560
Zong
150 MB –PKR 50
500 GB – 500 PKR
15GB + 15 GB
YOUTUBE – 1000 PKR
How do I get these Local Plans
Like most smartphones, for data to work in Pakistan, your phone should support a physical SIM. SIM cards can be purchased all around the country at official franchises, local shops, bazaars and even corner shop outlets.
Things that are required for verification include but are not limited to your visa, your national identification card (NIC), physical thumb impressions, and scanned copies of your driver's license or any other document with photo identification.
Benefits of using an eSIM/devices that support eSIMs
Previously we spoke about the embed SIM technology (eSIM) and how it would revolutionize the tech industry and revolutionize it did. It completely discarded the previous hassle of handling and swapping a physical SIM. And this was not just during travel, it also meant owning an eSIM in your regular eSIM compatible phone.
eSIM connectivity also signifies your ability to connect to any local carrier all over the world which essentially means never changing SIM cards and completely forgetting the hassle of getting them delivered and taking hours for installation.
As easy as it gets + US Mobile Plans
At US Mobile, we make everything 5 times easier for you. With eSIM connectivity, you can now switch to an eSIM in just three easy steps!

1. Sign up with US Mobile
2. Add a line > Add an international line
3. Pay, install and get ready to use your eSIM!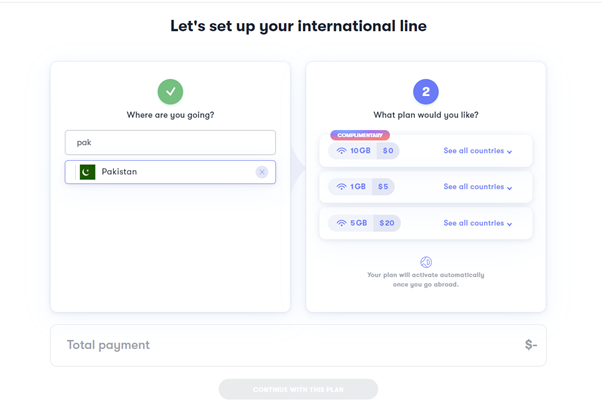 Make sure you check your phone's compatibility here to eliminate the slightest bit of hassle!
If you're traveling, look no further!
So if you've booked your tickets to the land of the juiciest mangoes in the summers and chilly nights that call for a cup of warm Kashmiri chai in the winter season, then make sure you're on the right data plan to enjoy and embed for later all the right moments with your loved ones and friends.