5G – it's the media buzzword of the decade so far. Industry leaders boast about its next-gen capabilities, skeptics scrutinize its practicality, and online conspiracy theorists claim that it's in cahoots with the pandemic. Beyond blazing-fast speeds and incredibly low latency, 5G is poised to deliver interactive elements to sports at the stadium and on your couch. Here's how 5G is reshaping the way fans engage with professional sports.
Get a better view
5G network speeds let you download a whopping 3 gigabytes of data in one second. This incredible capacity for speed and bandwidth makes it possible to stream seven HD streams simultaneously on thousands of devices within a small radius. The NFL is taking advantage of 5G through a Verizon partnership to bring fans NFL Multi-View.
Picture this: You're at the stadium watching your favorite team play, but the view from your nosebleed seats leaves a bit to be desired. If part of the field is obstructed, or if you simply want a closer view for a big play, you can use NFL Multi-View to pick the perfect angle and stay in the game.
Get a closeup on the referee with millisecond latency during crucial calls, watch the gameplan unfold from the benches, and run back instant replays of big plays you missed while at concessions, the restroom, or as other fans shimmy their way back to their seats.
There is some simple AR compatibility packaged in, too. Snapchat-like selfie cam features bring animations and filters exclusively to the NFL Ticketholder app. Additionally, you can load up some fun AR overlays that'll display stats, win probability, and other metrics in real-time.
It's a simple concept that brings a more convenient and custom feature to the stadium experience, adding some bonus value to your gameday ticket. Of course, you don't want to have your nose in your phone for the whole game, so I envision Multi-View as a modern tool in the lineup of long-running relics such as binoculars, seat cushions, and beer koozies.
Learn more in real-time
5G is upgrading the viewing experience by sending rich data to fans' devices. Immersiv has created a software layer called ARISE that interacts with data from SMT to provide stadium goers with real-time data on the game they're watching.
A small chip slipped in players' uniforms is tracked by 6 or more infrared cameras on the stadium rafters. 5G nodes transmit data to handsets instantly, so fans can point their camera at a player and see today's game performance, and current movement speed, along with a bio and historical data.
Currently, this tech is deployed in the NHL, Bundesliga, and is expanding globally.
Beyond statistics, ARISE brings an array of bonus features to message other fans, place bets, view highlights, and smartly reveal AR overlays to help fans gain extra context in the moment for free kicks, fouls, and other big plays.
Altogether, Immersiv is working to digitally enhance the stadium experience by letting individuals choose their preferred way of interacting. Fans can get the exciting, social stadium feel without sacrificing the statistical context that broadcast brings. This way, fans can choose which players they care about most and dig deeper into these data sets as they watch them perform.
Mixed-Reality Experiences
5G is powering fan experiences for those enjoying the game from home, too. Much like the in-person innovations for fans at the game, developers are using the same in-stadium sensors to track and transmit data to viewers watching from everywhere else.
T-Mobile's MLB AR app added an awesome set of features to enhance the Home Run Derby. Information is shown in the context of a 3D rendering of the stadium. As balls are hit, you're able to see all relevant stats like velocity, hang time, distance, etc., along with a visual trail showing where the ball travels. This is a great companion to watching the game as you can get a more customized view of what you want to see.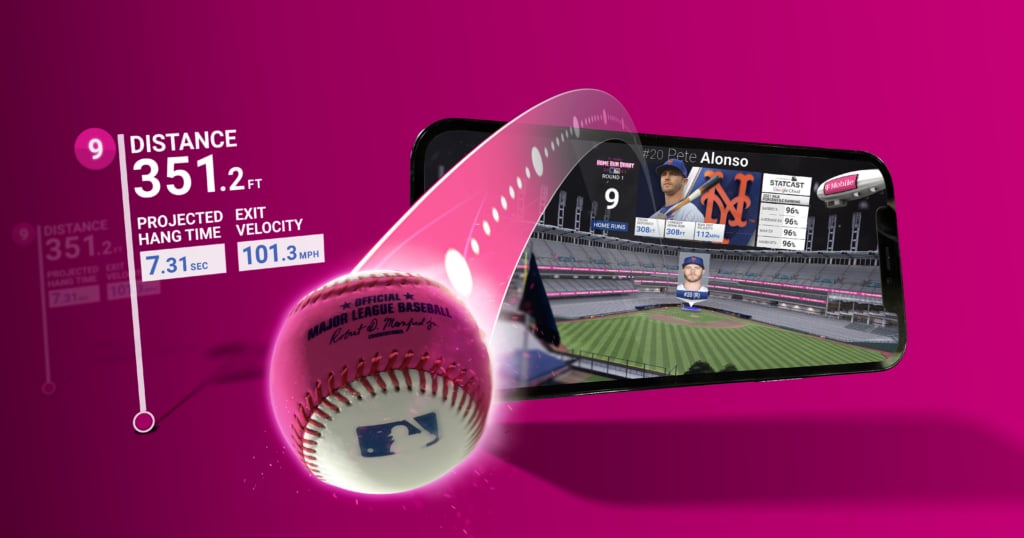 Another sweet feature in the MLB AR app is powered by 5G-enabled cameras mounted on the players' hats and catchers' masks. Users can see the game from the perspective of the players – a viewing style never before seen in the MLB. Expand this POV coverage across other sports like football and soccer, and viewers will be able to feel the game on another level.
---
I feel coaxed to imagine this functionality becoming the new standard for sports entertainment and beyond. On a wide scale, social media and streaming subscriptions have evolved to cater to each individual user's interests and preferences, so why not do the same for other forms of entertainment? Sports don't have to remain a one-size-fits-all presentation.
With the days of premium sports cable packages and league-specific add-ons trailing in the past, one can only hope these features will remain free for anyone using a 5G-enabled device. While 5G is still young and fresh in the consumer market, companies are pushing these features for free to increase adoption and deepen awareness. Let's cross our fingers that we won't run into premium streaming subscriptions that bring these additional enhancements at an additional cost.
Looking to give 5G a shot? We've got plans for you. Get started with 10 full days for free!