US Mobile has a lot of great things in store for our customers. We are always trying our best to give our customers amazing deals to ensure that their experience with one is highly memorable. One of our most appreciated and highly rated features is the perks we offer on our family plan.
So, what exactly are perks? And how do they work?
Perks (Benefits) are the Music/Video streaming and Gaming services US Mobile provides to customers having 3 or more lines on Unlimited All Plan. The best thing is that we have something for everyone especially as it is a great option for you to save money.
If you enjoy music, we got you covered! If video streaming takes up most of your time and expenses, no worries, we are right here. If gaming is your passion, you can pursue it wholeheartedly!
You can view the list of perks offered by us here: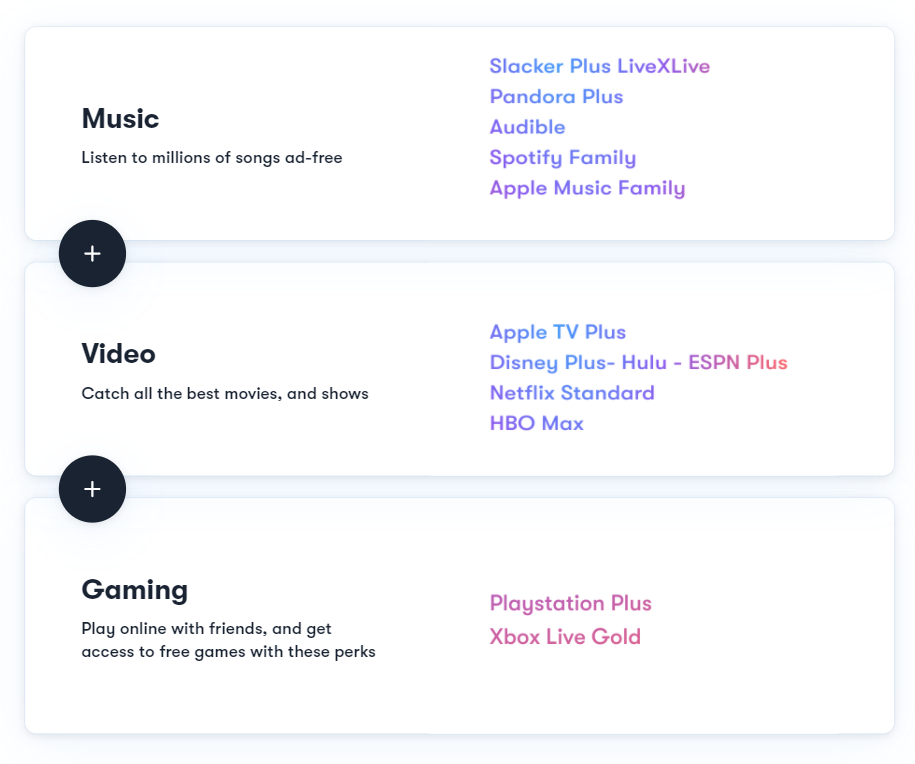 Here is a detailed breakdown of the perks we offer:
Music Perks
A music streaming platform combining both audio and (at times, live) video. It can allow you to create and share customized music stations.
A music streaming service that you can listen to on various devices, from a PC or a laptop, smart speakers, a smart TV, a Blu-ray player, to select car stereo systems. It gives you the option to create personalized radio stations based on a song or an artist that you like.
An audiobook service from Amazon, offering the world's largest selection of titles ranging from original podcasts to cherished classics. With an Audible membership, you can stream or download selected titles for your listening pleasure.
A digital music, podcast and video service that can provide you with access to millions of songs and other content from content creators all across the world. Basic functions such as music can be accessed for free, but you can upgrade to Spotify premium for more features.
A subscription-based music streaming service featuring access to over 75 million songs from all over the world. It combines all your music in one place, and allows for offline listening even when you are not connected.
Video Perks
Apple TV+ is Apple's subscription streaming platform. It is entirely ad-free and features a number of original shows and movies created under the Apple Originals program, alongside a small collection of licensed content.
2: Disney Plus – Hulu – ESPN Plus:
The Disney bundle provides you with access to ESPN+, Hulu, and Disney+. You watch thousands of movies and TV shows on Hulu, Disney+ can provide you with access to movies, series, and short-form content from Marvel, Disney, National Geographic and more, and lastly, ESPN+ allows you can watch various live and on-demand sports content.
Netflix offers a grand library of movies, TV shows, and original content for viewers. With Netflix Standard, you can have two simultaneous streams, two devices to register for downloads, and higher video resolution too.
Hulu is an on-demand video streaming platform that has been making waves for over a decade. It boasts a massive library, with over 2,500 movies and 40,000 episodes from thousands of TV shows.
Gaming Perks
PlayStation Plus is a subscription service from PlayStore that offers games to download each month. It can provide you with access to online multiplayer gaming, exclusive discounts from the PlayStation Store, and 100GB of cloud storage for game saves and various other content.
Microsoft's online gaming subscription for Xbox 360 and Xbox One. It is necessary requirement to play online multiplayer games, and this subscription can also allow you to access voice chat, and the party system.
In order to be eligible for perks, an account needs to have 3 or more lines on the Unlimited All plan. We offer 2 perks in total. For 3 lines on Unlimited All plans, customers are eligible for 1 perk while for 4 or more lines on the Unlimited All plan, customers can obtain 2 perks.
Essentially, if you are on a family plan with more than 2 people, you are all set for perks. On the US Mobile family plan, two lines cost $30, and 3 or more lines cost $25 each. These deals consist of Unlimited All plans, and when you throw perks in the mix, there is no doubt that these family plans are a true steal! Look no further, the US Mobile family plan is just the one for you.